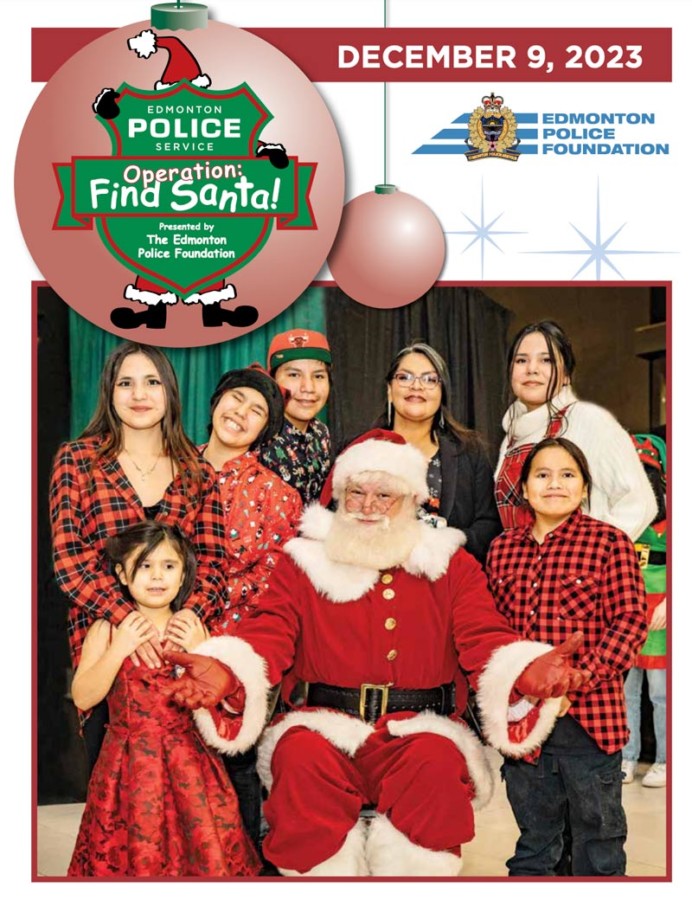 Operation Find Santa 2023
December 9, 2023
For the 2nd year, the Edmonton Police Foundation is hosting Operation Find Santa for families in need.
Ten families selected by Bent Arrow Traditional Healing Society are invited to Fantasyland Hotel to have breakfast with Santa. It is soon discovered that Santa isn't going to make it to breakfast because he has been KIDNAPPED by the Grinch!
Chief Dale McFee gives the kids a very critical assignment — to find Santa! The families team up with police officers to search West Edmonton Mall for clues (and many treats). Once they gather all their clues, they catch the Grinch and save Santa. This is when they recover all their gifts and holiday groceries.
By sponsoring Operation Find Santa you are helping to connect police to Indigenous families in a unique way that builds positive memories on both sides. The nature and tempo of police work don't always allow them to see the public at their best, so events like this create a safe space for them to laugh and have fun with families.
Sponsorship Form
Questions?
Email or call Elisha if you have any questions
Sponsorship Levels
All sponsors are invited to attend the event to experience the magic.
Candy Cane Chief Sponsor – $15,000
Business name in title of event
Logo placement on all event day materials and signage
Speaking opportunity at event
Logo placement on EPF website
Mention in all pre- and post-event communications
Mention in social media posts
Sugar Plum Superintendent Sponsor – $10,000
Logo placement on all event day materials and signage
Logo placement on EPF website
Mention in all pre- and post-event communications
Mention in social media posts
Icicle Inspector Sponsor – $5,000
Logo placement on all event day materials and signage
Logo placement on EPF website
Mention in all pre- and post-event communications
Silver Bell Sponsor – $2,500
Logo placement on all event day materials and signage
Logo placement on EPF website
Mention in all pre- and post-event communications
Caroling Constable Sponsor – $1,000
Logo placement on all event day materials and signage
Logo placement on EPF website