Go Back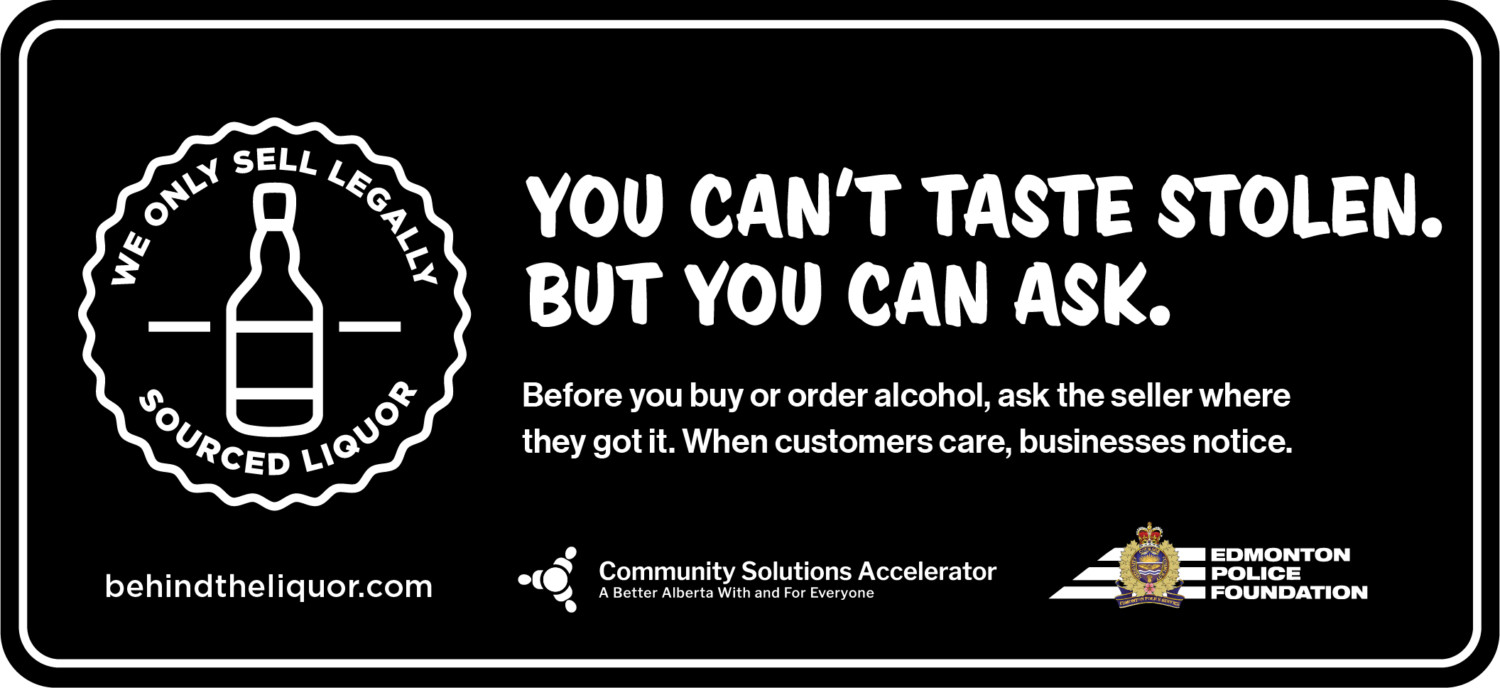 LIQUOR STORE ROBBERIES/THEFTS CHALLENGE – UP TO $250,000 CAD
The Edmonton Police Foundation ("EPF") and the Edmonton Police Service ("EPS") announce that they have teamed up with Alcanna Inc., Alberta's largest retailer of liquor, to combat the epidemic of liquor store robberies and thefts that have plagued the City of Edmonton (the "City" or "Edmonton") and drastically escalated over the last 18 months. In the Edmonton area, liquor store retailers have experienced approximately a 290% increase in Liquor Store Thefts between 2018 and 2019. The total liquor store robberies/thefts were 9595 in 2019 compared to 3306 in 2018 and only 488 in 2015. Currently liquor store robberies/thefts are occurring on average 26 times a day. These robberies/thefts aren't only isolated to the Edmonton market; the situation is as dire in Calgary and other communities across Alberta and Canada. The LCBO in Ontario reported $77 million losses in 2018 and the province of Manitoba had also reported similar dramatic crime increases in its stores. As these incidents escalate the likelihood of serious injuries or worse increases as the criminals have become more violent and threatening over time.
Alcanna alone has lost millions of dollars in product through these robberies/thefts. Proceeds from stolen liquor have now gone to fueling the drug trade and organized crime gangs who openly claim responsibility. The safety of Alcanna's employees and customers is paramount and as robberies/theft continues to rise, it increasingly endangers their safety. From occasional instances of individual offender or single location theft, events now have groups – often armed with knives, pepper spray or guns – targeting locations with groups of individuals entering with large empty duffel bags, filling them with products and walking out – this has now become a daily activity with offences being coordinated and methodized in different parts of the city.
In most cases, once a robbery/theft Is reported, there is little a police officer can do besides taking the report and investigating what information from the crime may be available. In order to ensure safety, store staff are prohibited from engaging or detaining offenders, or attempting to prevent the crime. In the last year, liquor store employees have been stabbed, hit with broken bottles, and sprayed with bear spray all without provocation. Alcanna uses proactive mitigation strategies to prevent robberies/thefts, including video surveillance, alarms, locks and the use of internal and external loss prevention staff in stores, but these have all had no impact on the worsening situation.
Robberies/theft are also not limited to the Liquor industry, a range of products from different industries are often targeted; from high-end designer clothing to day-to-day products (razor blades, cologne, baby formula), anywhere there is an opportunity to profit from resale, there is an opportunity for theft. The Retail Council of Canada states that an average of two per cent of annual sales in retail is lost to theft, which amounts to a total of $5 billion in losses across the retail sector in Canada, that's over $13 million in a single day.
Alberta Liquor Market
Alberta is the only Canadian province with a fully privatized retail liquor industry. Liquor store operators in Alberta are free to set their own retail prices, including selling at or below the wholesale cost, and may adjust prices based on the customer, the amount of the sale or any other factor determined relevant by the store operator. In addition to selling alcoholic beverages, liquor stores may also sell certain related items, such as soft drinks and other drink mixes, ice, de-alcoholized beverages, glassware and other accessories, although sales of such items may not exceed ten percent (10%) of total sales. Liquor stores may sell liquor to other liquor stores, other licensed premises (e.g., lounges, restaurants, pubs, taverns, etc.) and special event license holders. Liquor stores may also sell special event licenses for private functions and may provide delivery service. The liquor store industry in Alberta is a fragmented market, with over 2,200 locations that provide sales for off-premises consumption in total. While across Canada, beer and liquor stores and agencies sold $23.5 billion worth of alcoholic beverages during the twelve-months prior to March 31, 2018, Alberta's share of the alcoholic beverage market during that time period was 11.0%. In Alberta, alcoholic beverage sales totaled $2.58 billion for the twelve-months prior to March 31, 2018, a 1.2% increase over the previous year (all figures cited in this paragraph are from the most recent information published by Statistics Canada).
The Goals
Increase safety and prevent harm to employees and the public.
Reduce robberies and thefts from liquor stores by a minimum of 50% (with a target of 80%) with minimal disruption in revenue/sales and minimal increase in labor costs.
Reduce, minimize, disrupt and prevent the resale of stolen commodities for profit and funding larger issues of crime and disorder.
Support law-enforcement in the intervention and investigative components of liquor store thefts.
Support and encourage the justice system in imposing consequences for these criminals once caught.
What's in it for you?
Alcanna is offering a financial prize, subject to the terms and conditions appended below, that will be awarded based on results from field trials conducted at select Alcanna stores in the City of Edmonton:
50% decrease in liquor store thefts relative to baseline for a minimum of 90 consecutive days. Prize Awarded: Up to $150,000 CAD (of the total $250,000 CAD available)
80% decrease, or higher, in liquor store thefts relative to baseline for a minimum of 90 consecutive days. Prize Awarded: Up to $250,000 (of the total $250,000 CAD available).
If two or more field trials are implemented and determined to be effective as per the above criteria and the terms and conditions, the prizes will be awarded based on the level of success demonstrated by each trial.
For clarity, the total prize money available for this venture Is $250,000 CAD and as such those funds may be awarded based on the criteria specified in this document.
For those submissions who would be Interested In pursuing commercialization of the Idea (I.e. If It's deemed successful), we would consider such requests and assist in that commercialization per the assistance specified in this document. The commercialization could result in substantial gains for the winning submission(s). You will get a reputable paying first customer, referrals/references, option for pre-seed funding and assistance in marketing the solution globally.
Evaluation Process
Alcanna will be assisted by a committee of research experts, independent of the CSA Governance Board, in deciding whether the results of a field study align with the prize thresholds identified above. The committee will be formed by the CSA Governance Board and include members from the stakeholders identified.
Upon completion of a field trial, methodology and results will be posted on-line – subject to approval from Alcanna and limited to non-financial data only.
What's in it for the Edmonton Police Foundation (EPF) and the CSA?
The Primary purpose of the Edmonton Police Foundation (and the CSA formed and operated by the EPF) is to support community safety. To maintain funding sustainability for this primary purpose, the EPF will work with Alcanna to negotiate with the appropriate competitors within the contest to determine a fair royalty or other agreeable compensation model for the commercialization of the successful field trial(s). All intellectual property will remain the property of the Alcanna and the Edmonton Police Foundation but will be free to assign any such IP to appropriate party(ies) as they deem fit. All parties will act in good faith to ensure the venture Is commercially viable and not hinder It In any way deemed harmful
What's in it for Alcanna?
Alcanna is passionate about fighting the war on liquor theft and committed to finding a solution to this issue. In the last couple of years, Alcanna has lost millions of dollars in product through robberies/thefts and has seen firsthand, the increasing violence and risk it has had on the safety of Alcanna's employees and customers.
As the prize sponsor, Alcanna is committed to working with the selected contestant(s) on performing a proof of concept (field trial) in select stores and for those solutions that are deemed to be successful, Alcanna will commit to implement the solution based on a negotiated licensing rate when it is commercially viable.
Data, Information and other assistance available
Information available:
Edmonton Police Foundation will provide aggregated data across for the following:
Alcanna may provide layouts of some of the stores
The CSA may offer the following to those ventures selected for further evaluation

Cloud computing resources
Physical office space
Devices and other equipment that may be used to aid In the projects success
Resources (domain experts, mentors, entrepreneurs experienced with software commercialization, AI/ML professionals, etc.)
Funding (e.g. Pre-Seed type VC funding) to help In the commercialization of the venture(s)
Other assistance
Interested in learning more or competing for this challenge? Please click this LINK (https://www.herox.com/LiquorStoreThefts) and follow the instructions there.
NOTE: All submissions become the property of EPF (and will not be returned) and any prize(s) awarded are at the sole discretion of EPF. The terms and conditions, including challenge details are subject to change without notice and at any time. It is best to keep checking for the most current version. As well, we expect multiple submissions outlining similar ideas, which will be at the sole discretion of EPF as to who, if anyone, is awarded any prize. There are several ideas that the sponsor has already received or is evaluating and if someone submits a proposal with a similar idea/concept, it won't be eligible for a prize. Due to competitive constraints, the sponsor is not obliged to reveal all the solution(s) they have evaluated or are evaluating or considering. As well, submitting a response to our challenge indicates you providing us consent to send you any updates or notifications via email. Should you wish not to get any email updates, please let us know via the email you submitted to. All timelines proposed in this challenge document are estimates and like any of the content or terms, they are subject to change.
Legal Terms and Conditions
https://www.herox.com/LiquorStoreThefts/legal-agreement-view