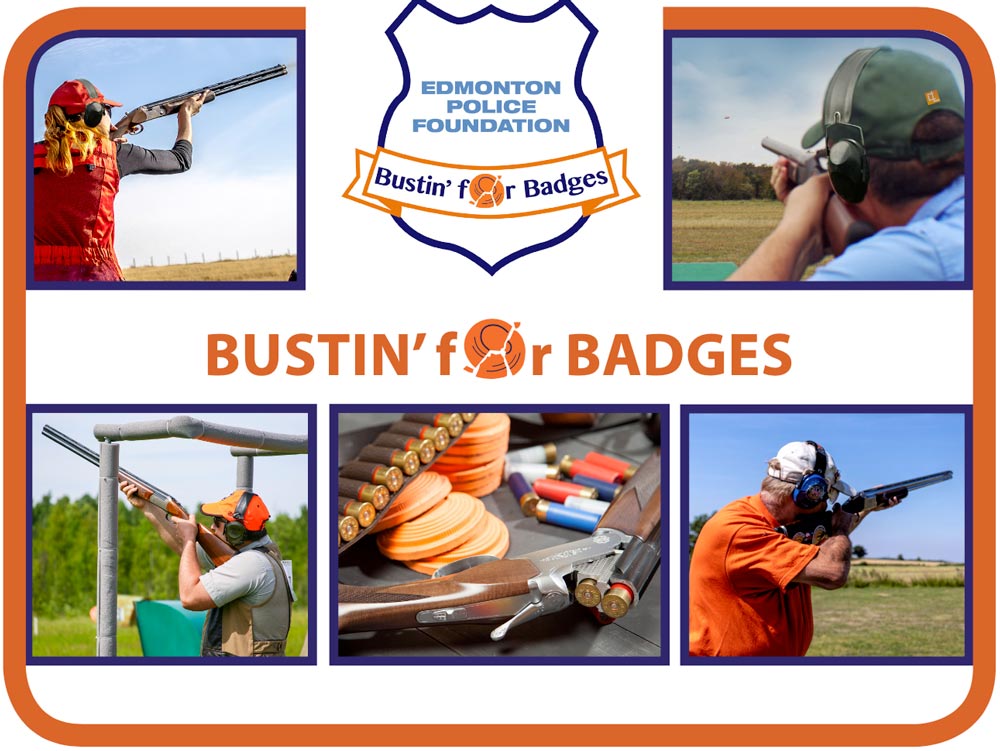 Bustin' for Badges 2022
June 17, 2022
Beaverhill Sporting Clays in Tofield, AB
$500 per person | $2,500 per team
Registration & Breakfast: 8am | Tournament: starts 10am; ends 2pm
"Pull" Together to Make Edmonton the Safest City in the World!
Join us for this inaugural all-day outdoor event to raise funds for the Edmonton Police Service to keep our city safe.
Sharp shooters (and not so sharp shooters) can participate in the thrill of North America's fastest growing sport with a unique client-hosting opportunity.
Bustin' for Badges will help purchase the best trained and skilled police dogs for the canine unit, create effective and forward- thinking solutions to community problems and support engagement to greatly increase positive interactions between our police and community members.
Count on some of the best clay shooting Canada has to offer, two delicious catered meals, a fully-loaded silent auction and exclusive raffles!
Register Now
Registration/Sponsorship Form
Questions?
Email or call Elisha if you have any questions
Presenting Sponsor – $25,000
Complimentary tourney participation for 3 teams
Company name included in logo as presenting sponsor
Verbal recognition by emcee during opening remarks
Speaking opportunity at the event
Logo recognition and link to company website on the Edmonton Police Foundation website
Company name in program title, name/logo on event collateral and logo on event invitations
Introduction of your company as the title sponsor in all media releases
Recognition in post-event communications to Edmonton Police Foundation friends & supporters
Exclusive inclusion in social media promotions • Company profile in our e-newsletter
Logo on step up and repeat, where all teams get their picture taken
Exclusive Tactical/Bomb Unit Experience – tour of tactical facility, interaction with members and explanation of equipment
"Buck" Sponsor – $15,000
Complimentary tourney participation for 2 teams
Sponsorship level exclusivity
Verbal recognition by emcee throughout event to let guests know that sponsor will be donating $1 per clay hit during tournament
Speaking opportunity at the event
Logo recognition and link to company website on the Edmonton Police Foundation website
Company name in program title, name and logo on event collateral and company logo on event invitations
Introduction of your company as the title sponsor in all media releases
Recognition in post-event communications to Edmonton Police Foundation friends and supporters
Exclusive inclusion in social media promotions • Company profile in our e-newsletter
Logo on step up and repeat, where all teams get their picture taken
Exclusive Canine Experience – tour of the canine facility, interaction with members and dogs and a demonstration
10 Gauge Sponsor – $10,000
Complimentary tourney participation for 1 team
Verbal recognition by emcee during opening remarks
Logo recognition and link to company website on the Edmonton Police Foundation website
Company name and logo on event collateral
Recognition in post-event communications to Edmonton Police Foundation friends & supporters • Mention in our e-newsletter
Invitation to key staff for an exclusive tour of the canine training centre
12 Gauge Sponsor – $5,000
Complimentary tourney participation for 1 team
Verbal recognition by emcee during opening remarks
Logo recognition and link to company website and on the Edmonton Police Foundation website
Company name and logo on event collateral
Mention in our e-newsletter
Silent Auction Sponsor
Name and logo on Silent Auction website
Signage on the silent auction table